Answer
A number of potential imaging modalities are available, as depicted in the image below. In general, ultrasonography or computed tomography (CT) is performed initially, followed by some form of cholangiography. Techniques used for cholangiography include magnetic resonance cholangiography, endoscopic retrograde cholangiopancreatography (ERCP), and percutaneous transhepatic cholangiography (PTC).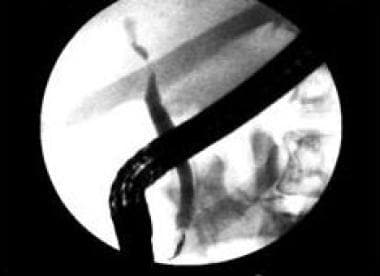 Tight stricture of a common hepatic duct in a patient presenting with jaundice. Cytologic studies confirmed cholangiocarcinoma.
---
Did this answer your question?
Additional feedback? (Optional)
Thank you for your feedback!