Answer
The basosquamous type is controversial. It has been defined as a basal cell carcinoma (BCC) with differentiation towards squamous cell carcinoma (SCC). It is made up of basaloid cells that are a larger, paler, and rounder than those of a solid BCC. It also consists of squamoid cells and intermediate cells. Some consider the diagnosis of this type most appropriate when one evaluates a tumor with contiguous areas of BCC and SCC. This type is considered to have metastatic potential and is considered an aggressive skin cancer (see the image below).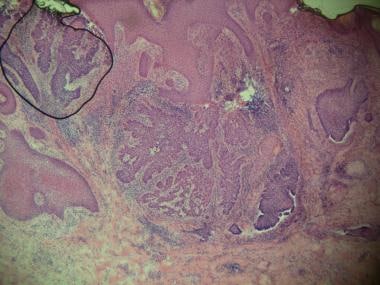 Basosquamous basal cell carcinoma. Foci of neoplastic cells with squamous differentiation are present. Courtesy of Shang I Brian Jiang, MD.
---
Did this answer your question?
Additional feedback? (Optional)
Thank you for your feedback!