Answer
Another aggressive variant, micronodular BCC, appears as small, nodular aggregates of basaloid cells. See the image below.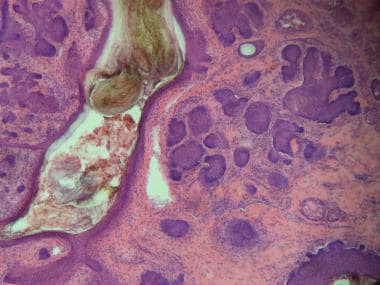 Micronodular basal cell carcinoma often has an absence of retraction artifact. The characteristic histology is small size and uniformity of the tumor nodules. Courtesy of Shang I Brian Jiang, MD.
Retraction artifact tends to be less pronounced than in the nodular form of BCC, and subclinical involvement is often significant. Micronodular basal cell carcinoma is similar to the noduloulcerative type, although the tumor islands are small (often < 15 cells in diameter).
---
Did this answer your question?
Additional feedback? (Optional)
Thank you for your feedback!