Answer
Superficial basal cell carcinomas are seen mostly on the upper trunk or shoulders. This type of BCC grows slowly, has minimal tendency to be invasive, and appears clinically as an erythematous, well-circumscribed patch or plaque, often with a whitish scale. Occasionally, minute eschars may appear within the patch or plaque. The tumor often appears multicentric, with areas of clinically normal skin intervening among clinically involved areas.
A threadlike border is common but not always present. Erosion is less common in superficial BCC than in nodular BCC, although pinpoint areas of hemorrhage or eschar may be present. The papules may mimic psoriasis or eczema, but they are slowly progressive and are not prone to fluctuate in appearance. Numerous superficial BCCs may indicate arsenic exposure. See the images below.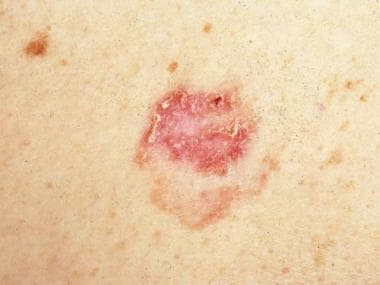 Scale, erythema, and a threadlike raised border are present in this superficial basal cell carcinoma on the trunk.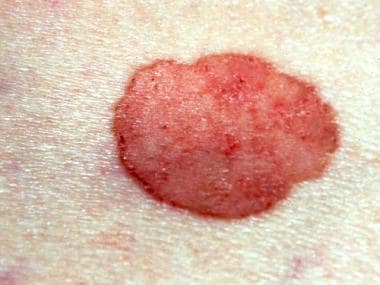 Large, superficial basal cell carcinoma.
---
Did this answer your question?
Additional feedback? (Optional)
Thank you for your feedback!