Answer
Morpheaform basal cell carcinoma is an uncommon variant in which tumor cells induce a proliferation of fibroblasts within the dermis and an increased collagen deposition (sclerosis) that clinically resembles a scar. This form accounts for 10% of lesions.
Such lesions appear as flat or slightly depressed, fibrotic, and firm. The tumor appears as a white or yellow, waxy, sclerotic plaque that rarely ulcerates. The morpheaform (sclerosing) type of basal cell carcinoma is often the most difficult type to diagnose, as it bears little resemblance to the typical nodular BCC.
Because the tumor infiltrates in thin strands between collagen fibers, treatment is difficult because the clinical margins are difficult to distinguish from normal, uninvolved skin. Mohs micrographic surgery is the treatment of choice for morpheaform basal cell carcinoma because recurrence is more likely with other treatment modalities.
Ulceration, bleeding, and crusting are uncommon and these tumors are commonly mistaken for scar tissue (see the image below).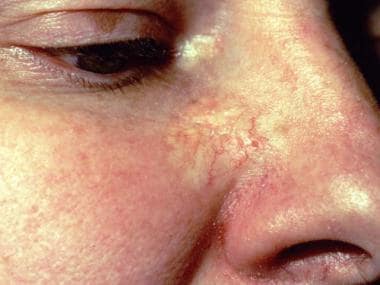 Large, scarlike morpheaform basal cell cancer.
---
Did this answer your question?
Additional feedback? (Optional)
Thank you for your feedback!