Answer
Nodular basal cell carcinoma is the most common type of basal cell carcinoma and usually presents as a round, pearly, flesh-colored papule with telangiectases. More than 60% of BCCs belong to this subtype. As it enlarges, it frequently ulcerates centrally, leaving a raised, pearly border with telangiectases, which aids in making the diagnosis. Fine vessels may bleed, resulting in hemosiderin deposition.
The tumor may present as a cyst, which can be mistaken for inclusion cysts of the eyelid. Cystic BCC is an uncommon variant of nodular BCC and is often clinically indistinguishable from nodular basal cell carcinoma, although it might have a polypoid, cystic appearance. Typically, a bluish-gray cystlike lesion is observed. The cystic center of the tumor is filled with clear mucin that has a gelatinlike consistency. Often, one can see the typical features of a nodular basal cell carcinoma in addition to the cystic features.
Most tumors are observed on the face, although the trunk and extremities also are affected. See the images below.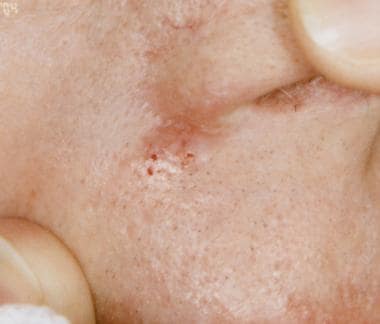 Nodular basal cell carcinoma.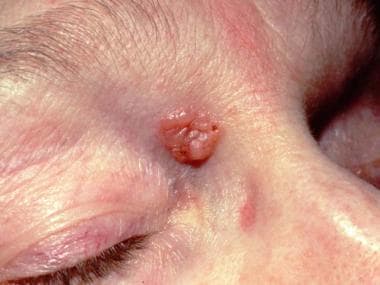 Nodular basal cell carcinoma appearing as a waxy, translucent papule with central depression and a few small erosions.
---
Did this answer your question?
Additional feedback? (Optional)
Thank you for your feedback!