Answer
Periocular tumors most commonly involve the lower eyelid (48.9-72.1%), followed by the medial canthus (25-30%), the upper eyelid (15%), and the lateral canthus (5%). Examples are shown in the images below.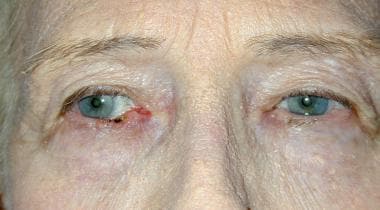 Basal cell carcinoma of the right lower lid.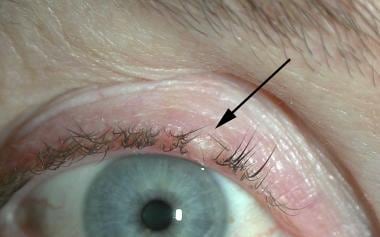 Biopsy-proven basal cell carcinoma of the upper lid margin. Note the loss of cilia (madarosis) in the area of the tumor.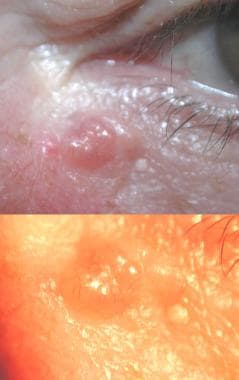 Medial canthal/lower lid basal cell. Note the pearly nodular surface with characteristic telangiectatic vessels. Proximity to the lacrimal system will impact its treatment and reconstruction.
Though a literature review showed all authors agreed that periocular BCC most commonly occurs in the lower eyelid, the remaining anatomical locations and the incidence of occurrence differ among the studies.
Younger patients (< 40 y) may have a lower prevalence of BCC on the head and neck and a higher prevalence on the trunk, with greater tendency to superficial BCC, than in older patients. [57] Childhood BCC is exceedingly rare in the absence of other underlying conditions. Only 107 cases of de novo childhood BCC have been reported in the literature, but the majority (90%) occurred on the head and neck, and aggressive subtypes were observed in 20% of the total cases. [58]
---
Did this answer your question?
Additional feedback? (Optional)
Thank you for your feedback!