Answer
Basal cell carcinoma (BCC) is the most common skin cancer in humans, yet it accounts for less than 0.1% of patient deaths from cancer. Basal cell skin cancer tumors typically appear on sun-exposed skin, are slow growing, and rarely metastasize (0.028-0.55%). BCC usually appears as a flat, firm, pale area that is small, raised, pink or red, translucent, shiny, and waxy, and the area may bleed following minor injury. Tumor size can vary from a few millimeters to several centimeters in diameter. (See Presentation.)
See the clinical images below of basal cell carcinoma.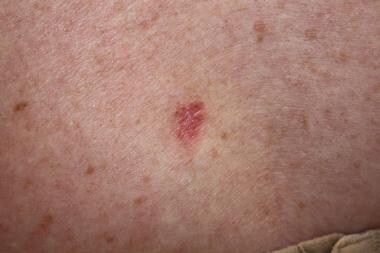 A pink, scaly lesion on the skin. Superficial basal cell carcinoma (BCC) is often misdiagnosed as eczematous dermatitis or guttate psoriasis and is often difficult to distinguish clinically from Bowen disease (squamous cell carcinoma in situ). Features that suggest the diagnosis of superficial BCC are the absence of significant white, adherent scale and a history of the lesion remaining unchanged for several months or years. Treatment options for this tumor include electrodesiccation and curettage, surgical excision, cryosurgery, 5-fluorouracil, 5% imiquimod cream, and superficial radiotherapy. Electrodesiccation and curettage is the modality most commonly used, with a cure rate of approximately 95%.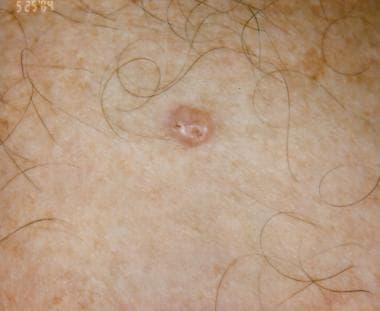 Basal cell carcinoma.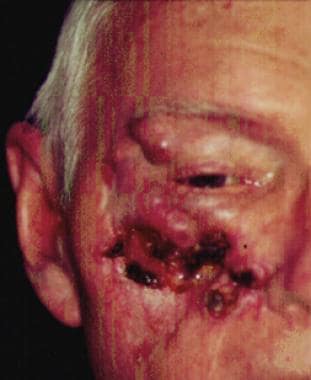 A 68-year-old patient presenting with an advanced basal cell carcinoma (BCC) of the right periorbital region, frontal view. Courtesy of M Abraham Kuriakose, DDS, MD.
BCC is a nonmelanocytic skin cancer (ie, an epithelial tumor) that arises from basal cells, which are small round cells found in the lower layer of the epidermis. Basal cells invade the dermis but seldom invade other parts of the body. The deoxyribonucleic acid (DNA) of certain genes is often damaged in patients with BCC; therefore, inheritance may be a factor. Most DNA alterations result from damage caused by exposure to sunlight. (See Pathophysiology.)
---
Did this answer your question?
Additional feedback? (Optional)
Thank you for your feedback!