Answer
Basal cell carcinoma (BCC) is a nonmelanocytic skin cancer (ie, an epithelial tumor) that arises from basal cells (ie, small, round cells found in the lower layer of the epidermis). [1, 2] The prognosis for patients with BCC is excellent, but if the disease is allowed to progress, it can cause significant morbidity. [3]
The image below depicts BCC of the right lower lid.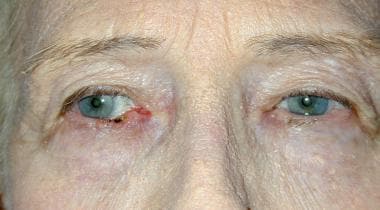 Basal cell carcinoma of the right lower lid.
See Nonmelanoma Skin Cancers You Need to Know, Can You Recognize Benign Skin Lesions From Cancerous Ones?, and Mole or Melanoma? Test Yourself With These Suspicious Lesions, Critical Images slideshows, to help correctly identify various lesions.
---
Did this answer your question?
Additional feedback? (Optional)
Thank you for your feedback!