Answer
An angiosarcoma (AS) is an uncommon malignant neoplasm characterized by rapidly proliferating, extensively infiltrating anaplastic cells derived from blood vessels and lining irregular blood-filled spaces. Specialists apply the term angiosarcoma to a wide range of malignant endothelial vascular neoplasms that affect a variety of sites. Angiosarcomas are aggressive and tend to recur locally, spread widely, and have a high rate of lymph node and systemic metastases. The rate of tumor-related death is high. See the images below.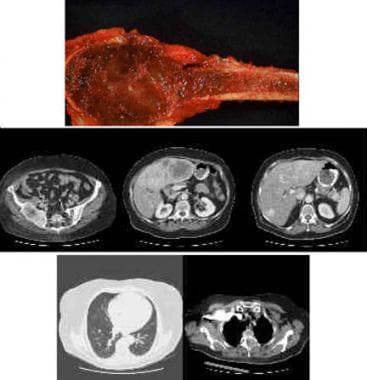 This is a gross specimen from a proximal humerus bone angiosarcoma. These tumors generally are red and hemorrhagic. Although the tumor has not extended into the adjacent soft tissues, cortical erosion is evident. The patient was treated with wide excision and reconstruction with a humeral spacer. The patient's next oncologic recheck showed multiple lesions, including a large destructive lesion in the right ilium extending to the sacroiliac joint and the right sacral ala. Also noted was an upper thoracic vertebral lesion, multiple indeterminate pulmonary nodules, extensive hepatic metastases most marked in the left lobe, and an indeterminate left adnexal mass.
---
Did this answer your question?
Additional feedback? (Optional)
Thank you for your feedback!