Answer
Transtubal dissemination is the most common route, although other routes, such as lymphatic and vascular channels, have been observed. This may explain how endometrial tissue can be found at distant, noncontiguous locations in the body.
Iatrogenic deposition of endometrial tissue has been found in some cases following gynecologic procedures and cesarean sections.
The ovary is the most common site for endometriosis. Spread to the ovary is believed to be lymphatic, [25] although superficial implants may be due to retrograde menstrual flow, because the ovaries are in a dependent part of the pelvis. Lesions can vary in size from spots to large endometriomas. The classic lesion is a chocolate cyst of the ovary that contains old blood that has undergone hemolysis (see the first image below). Once intracystic pressure rises, the cyst perforates, spilling its contents within the peritoneal cavity. This can cause the severe abdominal pain typically associated with endometriosis exacerbations. The inflammatory response causes adhesions that further increase the morbidity of the disease (see the second image below).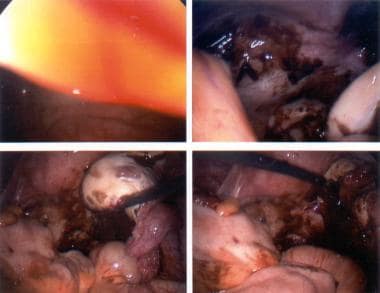 Endometriosis. Chocolate cyst of the ovary.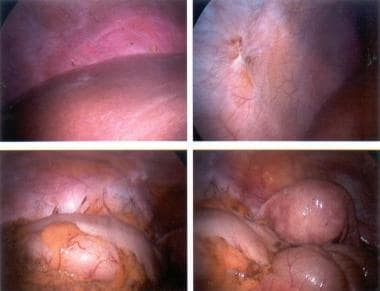 Adhesions due to endometriosis.
Uterine serosa can be affected. Vesicular lesions may provoke an inflammatory response and scarring that cause the bladder to adhere anteriorly. Posteriorly, the disease may cause obliteration of the cul-de-sac and form dense adhesions between the posterior vaginal wall or cervix and the anterior rectum. Severe dyspareunia, dyschezia, and alteration of bowel habits are the clinical sequelae of this common spread.
Deep peritoneal disease is caused by infiltration of the uterosacral ligaments and rectovaginal septum by endometriotic nodules. Tethering of the uterus can lead to fixed retroversion. Dyspareunia is an important feature.
Through contiguous spreading, endometriosis may invade the rectovaginal septum and the anterior rectal wall. It may also involve the upper rectum and sigmoid colon, infiltrating the muscularis. Cyclical rectal bleeding (hematochezia) is pathognomonic of endometriosis. However, transmural bowel involvement by endometriosis remains a rarity. The ileum, appendix, and cecum may also be involved, leading to intestinal obstruction. Cicatrization as a consequence of endometriosis may lead to symptoms of obstruction even in postmenopausal women.
---
Did this answer your question?
Additional feedback? (Optional)
Thank you for your feedback!