Answer
Gram stain is 89-97% sensitive and 79-85% specific for detecting bacterial vaginosis. On Gram stain, clue cells are identified as epithelial cells covered by small gram-negative rods.
Gram stain or culture on Nickerson media and Sabouraud agar may enhance diagnosis of vaginal candidiasis. The Papanicolaou test (Pap smear) may have frequent false-positive results for yeast.
The Papanicolaou test is not accurate in the diagnosis of Trichomonas infections: Pap smears may reveal trichomonads but have high false-positive and false-negative rates. T vaginalis may be identified with Giemsa staining of in vitro culture specimens (see the image below).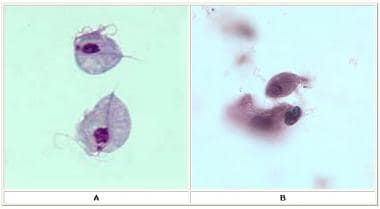 (A) Two trophozoites of Trichomonas vaginalis obtained from in vitro culture, stained with Giemsa. (B) Trophozoite of T vaginalis in vaginal smear, stained with Giemsa. Images courtesy of Centers for Disease Control and Prevention.
---
Did this answer your question?
Additional feedback? (Optional)
Thank you for your feedback!