Answer
External fetal monitors often reveal fetal distress, as evidenced by late decelerations, fetal bradycardia, or decreased beat-to-beat variability.
An increase in the uterine resting tone may also be noticed, along with frequent contractions that may progress to uterine hyperstimulation, as seen in the fetal tracing below.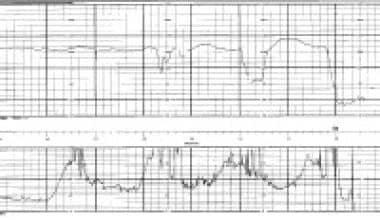 Fetal tracing with placental abruption. Decreased short-term variability, increased baseline uterine tone, uterine hyperstimulation, and worsening variable decelerations.
---
Did this answer your question?
Additional feedback? (Optional)
Thank you for your feedback!