Answer
The global prevalence of Zika virus infection has not been widely reported owing to asymptomatic clinical course, clinical resemblance to other infection with other flaviviruses (dengue, chikungunya), and difficulty in confirming diagnosis.
Based on sporadic case reports, entomological surveys, and seroprevalence surveys, Zika virus infection had been reported in various hosts, including humans, primates, and mosquitoes, in 14 countries across Africa, Asia, and Oceania, as of 2014. [9] The prevalence of Zika virus infection in Uganda was 6.1% in 1952 among a population of 99 residents. [10] The prevalence of Zika virus infection was 7.1% in Java, Indonesia, from 1977-1978 among patients who were hospitalized for fever. [11] Since Zika virus was first isolated in 1947, the disease has spread outside of Africa, mainly into Southeast Asia. Until 2007, sporadic cases of Zika virus illness in humans were reported. In 2007, Yap Island in Micronesia reported an outbreak of Zika virus infection transmitted via Aedes hensilli. [5] Subsequently, in 2013 and 2014, epidemics of Zika virus infection occurred in French Polynesia, New Caledonia, Cook Islands, and Easter Islands. [12]
In May 2015, Brazil reported the first outbreak of Zika virus infection in the Americas. The Brazil Ministry of Health estimated around 440,000-1,300,000 suspected cases of Zika virus infection in December 2015. [13] Aedes aegypti and Aedes albopictus were recognized as vectors for transmission of Zika virus. Since then, the infection has spread rapidly to several other countries, becoming a pandemic. The association of Zika virus infection with Guillain-Barré syndrome (GBS) and congenital birth defects (particularly microcephaly) amid the ongoing outbreak of Zika virus infection in Brazil is still under investigation. [13, 14]
In March 2016, the WHO reported that Zika virus was actively circulating in 38 countries and territories, 12 of which have reported an increase in GBS cases or laboratory evidence of Zika virus among patients with GBS. [15]
As of June 2016, a total of 591 laboratory-confirmed travel-associated Zika virus infections have been reported in the United States, with none acquired via local vector-borne transmission. Eleven cases have been transmitted sexually, and one case of associated Guillain-Barré syndrome has been reported. [16] US territories such as Puerto Rico and the US Virgin Islands have 935 laboratory-confirmed local cases of Zika virus infection, and 4 cases have been attributed to travel. [16] Five cases of associated Guillain-Barré syndrome have been reported. See the images below.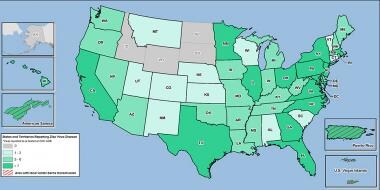 Laboratory-confirmed Zika virus disease cases reported to ArboNET by state or territory — United States, 2015–2016 (as of May 25, 2016). Courtesy of the CDC.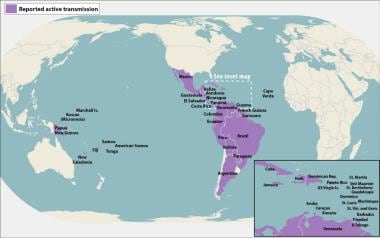 All countries and territories with active Zika virus transmission. Courtesy of the CDC.
---
Did this answer your question?
Additional feedback? (Optional)
Thank you for your feedback!