Answer
As of August 27, 2015, 844 cases of H5N1 had been reported worldwide, with 449 deaths. [11] Most cases have been in eastern Asia; some cases have been reported in Eastern Europe and North Africa. Underreporting has been a concern, particularly in China, but the prevailing attitude about the need to suspect, test, and report cases of avian influenza is growing. There have been 631 reported cases of H7N9 influenza, mostly from China, with other cases in Taiwan, Malaysia, Hong Kong, and Canada (2 imported cases).
Although the risk remains largely theoretical, the ease of global travel emphasizes the possibility of international spread. The risks have been highlighted recently with the rapid spread of a low-pathogenicity H1N1 swine-origin influenza in early 2009. The risk of a successful recombination event occurring between swine-origin H1N1 and a pathogenic avian influenza cannot be easily assessed. A mutation in avian influenza that rendered it permissive for sustained human-to-human transmission without affecting its pathogenicity in humans could be extremely dangerous. [12]
The image below depicts the countries where avian influenza has been reported.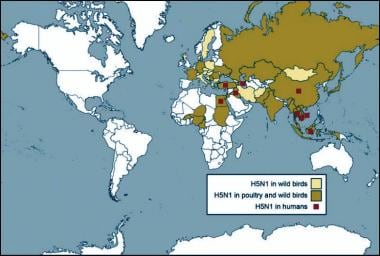 Global map of countries where avian influenza (bird and human infections) has been reported. Image courtesy of PandemicFlu.gov.
---
Did this answer your question?
Additional feedback? (Optional)
Thank you for your feedback!