Answer
Placement of intravascular stents during angioplasty (see the images below) may be helpful in preventing restenosis and managing RVHT. Data suggest that stenting may prove useful in patients with ostial disease, those who develop restenosis after PTRA, or those with complications resulting from PTRA (eg, dissection). Primary renal artery stenting in patients with atherosclerotic RAS has a high rate of technical success and a low rate of complications. [44, 45] {ref46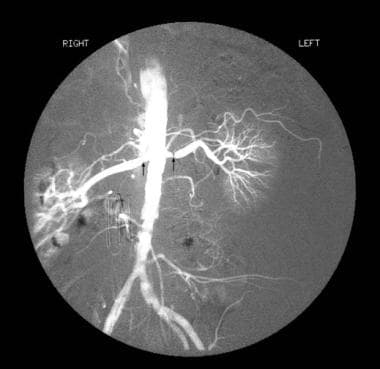 Angiogram showing bilateral renal artery stenosis. Courtesy of Department of Radiology, Henry Ford Hospital.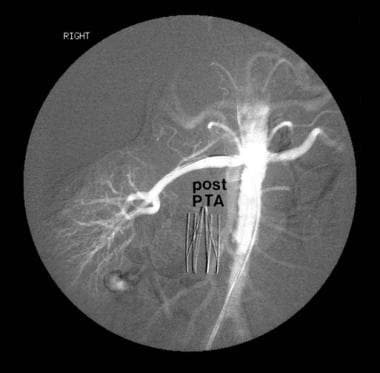 After percutaneous transluminal angioplasty (right renal artery). Courtesy of Department of Radiology, Henry Ford Hospital.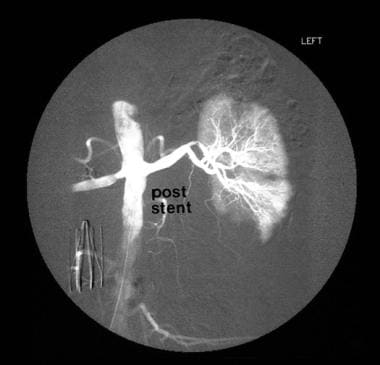 After percutaneous transluminal angioplasty and stent placement (left renal artery). Courtesy of Department of Radiology, Henry Ford Hospital.
The Angioplasty and Stenting for Renal Artery Lesions (ASTRAL) trial—a randomized, unblinded trial in 806 patients with atherosclerotic renovascular disease that compared revascularization (PTRA with or without stenting) plus medical therapy with medical therapy alone—found substantial risks but no evidence of a worthwhile clinical benefit from revascularization. Over a 5-year period, the two patient groups showed no statistically significant difference in systolic blood pressure or in the rate of progression of renal impairment, renal or major cardiovascular events, or death. [47]
Similarly, the addition of renal artery stenting to comprehensive medical therapy provided no significant clinical benefit in the Cardiovascular Outcomes in Renal Atherosclerotic Lesions (CORAL) study, which included 947 patients with atherosclerotic renal artery stenosis and hypertension or chronic kidney disease. Despite a consistent modest difference in systolic blood pressure favoring the stent group (-2.3 mm Hg), there was no significant difference in adverse cardiovascular and renal events or all-cause mortality. [48]
Saad and colleagues have offered a partial explanation for the limited clinical benefit of renal stenting. These researchers reported that severe renovascular disease is associated with tissue hypoxia and increased levels of renal venous markers of inflammatory cytokines and tissue injury. In their study, revascularization reduced hypoxia and partially restored blood flow, but failed to alter markers of inflammation, suggesting that additional measures may be needed to reverse the process of kidney injury. [49]
Other authors have proposed that stenting may be beneficial in carefully selected patient subgroups. Noory et al suggest that patients with hemodynamically significant RAS who have progressive renal insufficiency and/or deteriorating arterial hypertension may derive clinical benefit from stent revascularization. [50]
According to a consensus statement from the Society for Cardiovascular Angiography and Interventions (SCAI), the strongest evidence supporting renal artery stenting for RAS is in patients with a cardiac disturbance syndrome or flash pulmonary edema. In addition, carefully selected patients with severe bilateral RAS or stenosis to a solitary functioning kidney may experience clinical improvement with renal artery stenting. [22]
Other cases in which renal artery stenting generally represents appropriate care after a trial of optimal medical therapy, according to the SCAI, include the following [22] :
Patients with accelerated or resistant hypertension (failure of ≥3 maximally tolerated medications including the use of a diuretic)

Global renal ischemia (bilateral RAS or severe RAS in a solitary functioning kidney)

Hypertension with medication intolerance
Sustained benefit of renal artery stenting was shown in a retrospective study of 26 patients with ≥70% stenosis and uncontrolled systolic hypertension despite three or more antihypertensive drugs. On median follow-up of 5.1 years, blood pressure reduction was sustained (135/70 ± 18/11 mmHg) compared with initial reduction at 6 months and from baseline (162/80 ± 24/18 mmHg). The patients were also taking fewer antihypertensive drugs than at baseline (2.7 ± 2.1, down from 4.1 ± 1.0). [51]
---
Did this answer your question?
Additional feedback? (Optional)
Thank you for your feedback!