Answer
MRA is increasingly reported to provide better results than noninvasive screening procedures. [28] Studies indicate that 3-dimensional MRA with gadolinium-based contrast agents has a sensitivity of 96-100% and a specificity of 71-96% for the detection of a main RAS of greater than 50% (see the image below). [29, 30, 31] Concerns for severe dermatologic side effects when used in patients with reduced kidney function have led to avoidance of these agents though recent studies favor a more permissive approach with certain types of gadolinium-based contrast. [32, 33]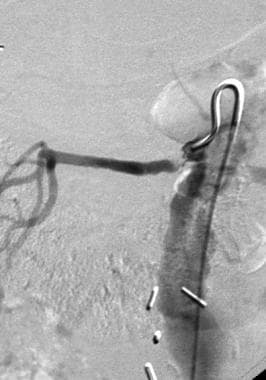 Magnetic resonance angiography (MRA) showing renal artery stenosis. Courtesy of Patricia Stoltzfus, MD, Chief of Interventional Radiology, West Virginia University.
When combined with cardiac synchronization, 3-dimensional MRA can sharply delineate the entire length of the major renal arteries. However, it remains suboptimal for the detection of hemodynamically significant lesions of distal, intrarenal, and accessory renal arteries, which, for all purposes, behave pathophysiologically as RAS. MRA is also of limited value in fibromuscular dysplasia (FMD), in which the lesions, being primarily middle and distal, are less well visualized with this modality.
Limitations of MRA include relatively high cost, restricted availability and concerns for long-term dermatologic side effects when used in patients with poor kidney function. Contraindications to MRA include claustrophobia and the presence of a metallic implant (eg, a pacemaker or surgical clip). The risk-to-benefit ratio should be carefully considered in patients with reduced kidney function and in patients on hemodialysis should be dialyzed daily for three days after receipt of this agent.
---
Did this answer your question?
Additional feedback? (Optional)
Thank you for your feedback!