Answer
Fibromuscular dysplasia
FMD involves fibrous or muscular hypertrophy of the vessel tunica media with fibrous intimal hyperplasia; accordingly, it is sometimes referred to as fibromuscular hyperplasia. Often, poststenotic dilatation is also present. The process may range from mild occlusion to complete occlusion of the vessel. On radiographs, FMD produces the classic string-of-beads appearance less often in children than in adults; rather, it tends to show short discrete or longer tubular segments of stenosis.
The most common site of stenosis is the orifice of the renal artery at its origin in the aortic wall (see the images below). The next most common location is within the main renal artery, and the segmental arteries are the least common site of stenosis. Total occlusion most often occurs at the orifice of the renal artery.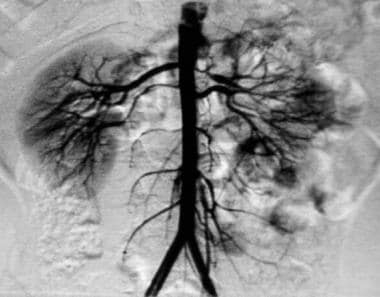 Aortogram of 4-year-old child with renovascular hypertension caused by stenosis of left renal artery. Note that left kidney has 2 renal arteries and that artery to superior pole has stenosis.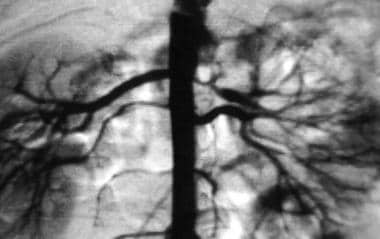 Close-up view of aortogram of 4-year-old child. Stenotic lesion begins at ostium of left superior renal artery. This lesion was caused by fibromuscular dysplasia and did not respond well to balloon angioplasty.
FMD may be either unilateral or bilateral, but the inciting event is unknown. Some have suggested an autoimmune origin. In 1995, Stanley proposed that the lesion forms as a developmental disease in the muscular layer, which is followed by intimal hyperplasia from the abnormal flow through the constricted lumen. [6]
---
Did this answer your question?
Additional feedback? (Optional)
Thank you for your feedback!