Answer
The chief pathophysiologic mechanism underlying RVHT involves activation of both limbs of the RAAS and depends on the presence or absence of a contralateral kidney (see the image below).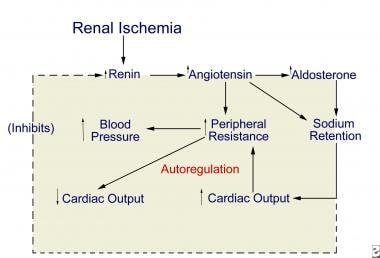 Proposed pathogenesis of renovascular hypertension.
Unilateral renal ischemia initiates hypersecretion of renin, which accelerates conversion of angiotensin I to angiotensin II and enhances adrenal release of aldosterone. The result is profound angiotensin-mediated vasoconstriction and aldosterone-induced sodium and water retention.
In the two-kidney one-clip model, where the clinical correlate is unilateral renal artery disease, sodium and water handling via pressure diuresis of the contralateral kidney may be sufficient to prevent a volume component to the hypertension. In the setting of a solitary kidney (experimentally, the one-kidney one-clip model), sodium and water handling is compromised, sodium and water retention ensues, and volume-mediated hypertension occurs.
In unilateral RAS, renin production is increased in the ischemic kidney but suppressed in the unaffected nonstenotic kidney, which lacks the same ischemic stimulus. Consequently, when two kidneys are present with a unilateral stenosis (two-kidney one-clip model), hyperreninemia persists and blood pressure remains elevated because of an angiotensin II–induced vasoconstrictive effect. Renin production decreases in the contralateral kidney, a pressure diuresis ensues, and hypertension is maintained by high levels of angiotensin II.
A solitary kidney rendered ischemic by RAS is unable to achieve the pressure diuresis required to handle the aldosterone-induced sodium and water retention. The resultant volume expansion contributes to the elevation in blood pressure and also suppresses the production of renin by the stenotic kidney.
The sympathetic nervous system does not appear to play a role in perpetuating elevated blood pressure in the two-kidney one-clip model of RVHT. Evidence for a role in the one-kidney one-clip model of RVHT has been presented but is not clear or definitive.
---
Did this answer your question?
Additional feedback? (Optional)
Thank you for your feedback!