Answer
Magnetic resonance angiography (MRA) is a noninvasive technique capable of demonstrating the renal vascular anatomy and revealing physiological information about kidney function (see the image below). This technique is capable of direct visualization of renal artery lesions without iodinated contrast material and provides a measurement of the absolute blood flow rate, GFR, and renal perfusion rate. Furthermore, MRA can provide accurate serial renal size and volume measurement. The limitations of MRA are its expense and its contraindication in patients with metallic clips, pacemakers, intraocular metallic devices, or other implants.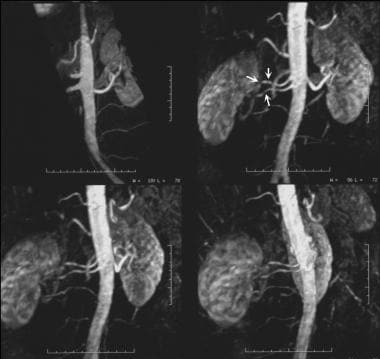 Three-dimensional gadolinium-enhanced magnetic resonance angiograms (MRAs) show medial fibroplasia, which appears as classic string-of-beads sign. This sign is due to multiple stenoses with intervening outpouchings that form a chain. In this case, the lesions involve the main right renal artery and the right accessory renal artery in a 37-year-old man with difficult-to-control hypertension.
---
Did this answer your question?
Additional feedback? (Optional)
Thank you for your feedback!