Answer
Use of radionuclide scanning, particularly following a single dose of captopril, is more useful in patients with normal renal function, in whom fibromuscular disease is suspected. See the image below.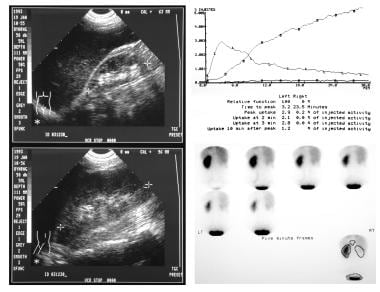 Renal artery stenosis/renovascular hypertension. Left, Sonograms of the kidneys on a 57-year-old woman with difficult-to-control hypertension shows kidneys of uneven sizes: The left kidney is 96 mm, and the right kidney is 63 mm. Top right, Isotopic renogram (obtained with technetium mercaptoacetyltriglycine [MAG3]) after captopril shows a markedly depressed renal function in the right kidney. Bottom right, Analogous images show negligible activity in the right kidney. Note that this pattern is more typical for DTPA than MAG3 (as DTPA depends on the glomerular filtration rate for uptake which is decreased after captopril in renovascular hypertension [RVHT]). In severe cases of RVHT, MAG3 uptake can be decreased, as in this case. However, typically, uptake is preserved with decreased cortical excretion.
Stratigis et al reported that captopril renal scintigraphy was highly accurate in predicting the clinical outcome of percutaneous renal revascularization with stenting in patients with atherosclerotic renal artery stenosis who have a high coronary artery disease burden. In their study of 64 consecutive patients referred after coronary angiography, scintigraphy had sensitivity and specificity of 100% for both a hypertension and renal benefit from renal revascularization in patients with atherosclerotic renal artery stenosis of ≥ 70%. [17]
Patients with possible ischemic nephropathy (ie, serum creatinine values >2 mg/dL) frequently have associated parenchymal disease or bilateral vascular disease, in which case, the results obtained with scanning are unable to distinguish between parenchymal renal disease and renal artery stenosis/ischemic nephropathy.
---
Did this answer your question?
Additional feedback? (Optional)
Thank you for your feedback!