Answer
The glomerular capillaries are lined by a fenestrated endothelium that sits on the glomerular basement membrane, which in turn is covered by glomerular epithelium, or podocytes, which envelops the capillaries with cellular extensions called foot processes. In between the foot processes are the filtration slits. These three structures—the fenestrated endothelium, glomerular basement membrane, and glomerular epithelium—are the glomerular filtration barrier. A schematic drawing of the glomerular barrier is provided in the image below.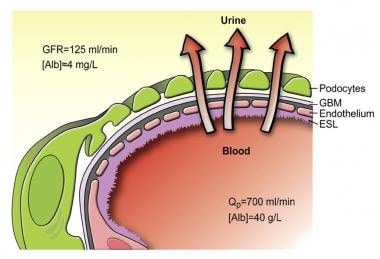 Schematic drawing of the glomerular barrier. Podo = podocytes; GBM = glomerular basement membrane; Endo = fenestrated endothelial cells; ESL = endothelial cell surface layer (often referred to as the glycocalyx). Primary urine is formed through the filtration of plasma fluid across the glomerular barrier (arrows); in humans, the glomerular filtration rate (GFR) is 125 mL/min. The plasma flow rate (Qp) is close to 700 mL/min, with the filtration fraction being 20%. The concentration of albumin in serum is 40 g/L, while the estimated concentration of albumin in primary urine is 4 mg/L, or 0.1% of its concentration in plasma. Courtesy of the American Physiological Society (www.the-aps.org) and reproduced from Haraldsson B, Nystrom J, Deen WM. Properties of the glomerular barrier and mechanisms of proteinuria. Physiol Rev. 2008 Apr;88(2):451-87.
---
Did this answer your question?
Additional feedback? (Optional)
Thank you for your feedback!