Answer
Findings of granular, muddy brown casts in urine sediment are highly suggestive of tubular necrosis (see the image below). The presence of tubular cells or tubular cell casts also supports the diagnosis of ATN. Often, oxalate crystals are observed in cases of ATN.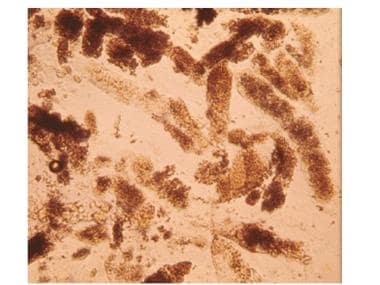 Pigmented, muddy brown, granular casts are visible in the urine sediment of a patient with acute tubular necrosis (400x magnification).
Reddish brown or cola-colored urine suggests the presence of myoglobin or hemoglobin, especially in the setting of a positive dipstick for heme and no red blood cells (RBCs) on the microscopic examination. The dipstick assay may reveal significant proteinuria as a result of tubular injury.
The presence of RBCs in the urine is always pathologic. Eumorphic RBCs suggest bleeding along the collecting system. Dysmorphic RBCs or RBC casts indicate glomerular inflammation, suggesting glomerulonephritis is present.
The presence of white blood cells (WBCs) or WBC casts suggests pyelonephritis or acute interstitial nephritis. The presence of urine eosinophils is helpful in establishing a diagnosis but is not necessary for allergic interstitial nephritis to be present.
The presence of eosinophils, as visualized with Wright stain or Hansel stain, suggests interstitial nephritis. However, this finding can also be seen in urinary tract infections, glomerulonephritis, and atheroembolic disease.
The presence of uric acid crystals may represent ATN associated with uric acid nephropathy. Calcium oxalate crystals are usually present in cases of ethylene glycol poisoning.
---
Did this answer your question?
Additional feedback? (Optional)
Thank you for your feedback!