Answer
Metabolic alkalosis is diagnosed by measuring serum electrolytes and arterial blood gases. If the etiology of metabolic alkalosis is not clear from the clinical history and physical examination, including drug use and the presence of hypertension, then a urine chloride ion concentration can be obtained. Metabolic alkalosis secondary to volume depletion is usually associated with a low urine chloride ion concentration (< 20 mEq/L).
For an algorithmic approach metabolic alkalosis, see the image below.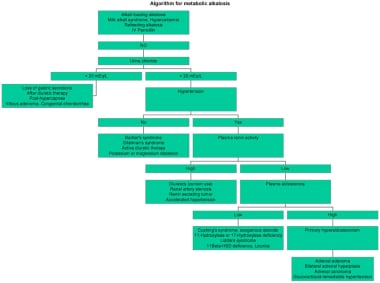 Algorithm for metabolic alkalosis.
---
Did this answer your question?
Additional feedback? (Optional)
Thank you for your feedback!