Answer
A hypertensive emergency is a condition in which elevated blood pressure (BP) results in target organ damage. [1] The systems primarily involved include the central nervous system (CNS), the cardiovascular system, and the renal system. Malignant hypertension and accelerated hypertension are both hypertensive emergencies, with similar outcomes and therapies.
Accelerated hypertension is defined as a recent significant increase over baseline BP that is associated with target organ damage. This is usually seen as vascular damage on funduscopic examination, such as flame-shaped hemorrhages or soft exudates, but without papilledema.
Hypertensive urgency must be distinguished from hypertensive emergency. Urgency is defined as severely elevated BP (ie, systolic BP >220 mm Hg or diastolic BP >120 mm Hg) with no evidence of target organ damage.
In order to diagnose malignant hypertension, papilledema (see the image below) must be present. [2] However, Cremer et al considered the presence of retinopathy as but one of various potential presentations for acute hypertension with multiorgan damage. [1] Accordingly, they proposed a "more modern" definition for malignant hypertension, in which hypertensive emergencies, in the absence of retinopathy, would be based on the criteria of acute elevated BP accompanied by damage to a minimum of three different target organs.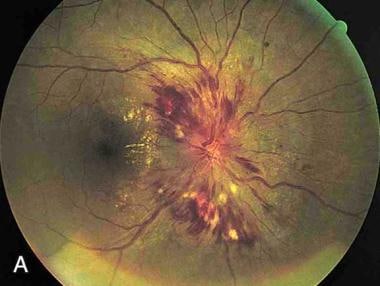 Papilledema. Note the swelling of the optic disc, with blurred margins.
Hypertensive emergencies necessitate immediate therapy to decrease BP within minutes to hours. [3] In contrast, no evidence suggests a benefit from rapidly reducing BP in patients with hypertensive urgency. In fact, such aggressive therapy may harm the patient, resulting in cardiac, renal, or cerebral hypoperfusion. This article discusses hypertensive emergency, but therapy for hypertensive urgency is discussed briefly.
---
Did this answer your question?
Additional feedback? (Optional)
Thank you for your feedback!