Answer
Calcium is controlled by 2 mechanisms. These are (1) controlling or major regulatory hormones and (2) influencing hormones. Controlling or major regulatory hormones include PTH, calcitonin, and vitamin D. The image below reviews vitamin D metabolism. In the kidney, vitamin D and PTH stimulate the activity of the epithelial calcium channel and the calcium-binding protein (ie, calbindin) to increase active transcellular calcium absorption in the distal convoluted tubule. Influencing hormones include thyroid hormones, growth hormone, and adrenal and gonadal steroids.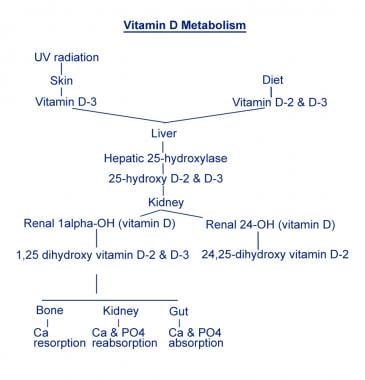 Vitamin D metabolism.
---
Did this answer your question?
Additional feedback? (Optional)
Thank you for your feedback!