Answer
Characteristically, the chest film shows patchy parenchymal consolidations, which are usually bilateral, symmetric perihilar, and bibasilar. The apices and costophrenic angles are usually spared (see the image below). However, as many as 18% of patients may have normal findings on chest radiographs.
The consolidation resolves over 2-3 days, and it gradually progresses to an interstitial pattern as patients experience repeated episodes of hemorrhage. Pleural effusions are unusual.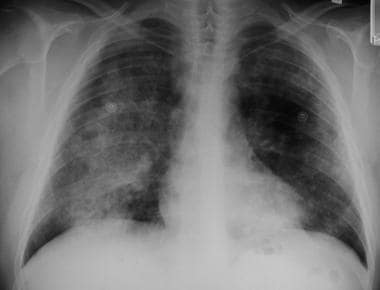 Goodpasture syndrome. A 35-year-old man who previously smoked cigarettes heavily, developed massive hemoptysis. The blood work showed positive anti–glomerular basement membrane antibodies.
---
Did this answer your question?
Additional feedback? (Optional)
Thank you for your feedback!