Answer
Electron microscopy findings are as follows:
Many of the ultrastructural changes confirm the findings from light microscopy evaluations.

The number of endothelial, mesangial, and infiltrating inflammatory cells is increased.

The glomerular basement membrane is usually normal in thickness and contour, although occasionally patchy thickening may be noted.

The most consistent and classic diagnostic finding is the presence of glomerular subepithelial electron-dense immune-type deposits, often referred to as humps (see the image below). The deposits are discrete and are commonly found on the part of the glomerular basement membrane overlying the mesangium.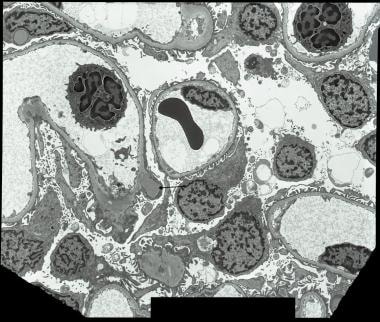 Kidney biopsy from a 7-year-old child with acute poststreptococcal glomerulonephritis. Electron microscopy image shows rare large subepithelial deposits, or "humps" (arrows). Courtesy of Laura Kidd, MD, Pathology and Laboratory Medicine, Tulane University Medical School.
---
Did this answer your question?
Additional feedback? (Optional)
Thank you for your feedback!