Answer
Acute glomerulonephritis following streptococcal infection is characterized by the sudden appearance of hematuria, proteinuria, red blood cell casts in the urine, edema, and hypertension with or without oliguria. [1, 2] (See the image below.) Poststreptococcal glomerulonephritis was first recognized as a complication of the convalescence period of scarlet fever in the 18th century. [3] A link between hemolytic streptococci and acute glomerulonephritis was recognized in the 20th century.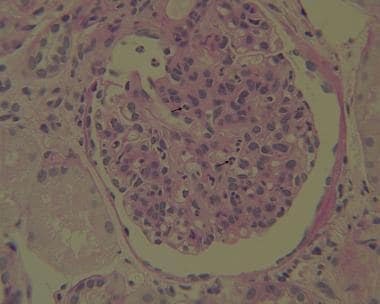 Kidney biopsy from a 7-year-old child with acute poststreptococcal glomerulonephritis. Periodic acid–Schiff stain (at 40x) shows the intracapillary and occasional mesangial neutrophil (arrows). Courtesy of Laura Kidd, MD, Pathology and Laboratory Medicine, Tulane University Medical School.
Although the incidence of poststreptococcal glomerulonephritis has declined in the United States, it continues to have high incidence in other parts of the world, especially in areas with tropical climates where skin infections are common. [4, 5]
The workup in patients with suspected acute poststreptococcal glomerulonephritis includes tests to provide evidence of preceding streptococcal infection, renal function studies, and serologic studies (see Workup). The major goal of treatment is to control edema and blood pressure (see Treatment and Medication).
See also Acute Poststreptococcal Glomerulonephritis, Acute Glomerulonephritis, and Emergent Management of Acute Glomerulonephritis.
---
Did this answer your question?
Additional feedback? (Optional)
Thank you for your feedback!