Answer
The most common light microscopy findings are focal or, more often, diffuse mesangial proliferation and extracellular matrix expansion (as seen in the image below). Morphology can range from normal to moderate or severe intracapillary or extracapillary proliferative lesions. While some patients have IgA deposits on immunofluorescence and little or no change by light microscopy.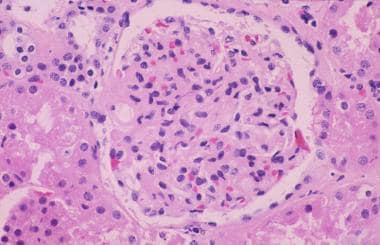 Light microscopy of a glomerulus from a patient with immunoglobulin A nephropathy showing increased mesangial matrix and cellularity.
Occasionally, patients have focal glomerular sclerosis indistinguishable from focal segmental glomerulosclerosis on light microscopy. A number of other findings can be observed in advanced disease, including interstitial fibrosis, tubular atrophy, and vascular sclerosis. A few patients have segmental necrotizing lesions with crescent formation due to extensive disruption of the capillaries. These findings can be helpful prognostic tools in patients with IgA nephropathy (see Follow-up/Prognosis).
---
Did this answer your question?
Additional feedback? (Optional)
Thank you for your feedback!