Answer
Immunoglobulin A (IgA) nephropathy is characterized by predominant IgA deposition in the glomerular mesangium. [1] It is one of the most common causes of glomerulonephritis in the world. [2, 3] IgA nephropathy was first described by Berger and Hinglais in 1968, and is also known as Berger disease. [4] [5]
Pathologically, a spectrum of glomerular lesions can be seen, but mesangial proliferation with prominent IgA deposition is observed in almost all biopsies. See the images below.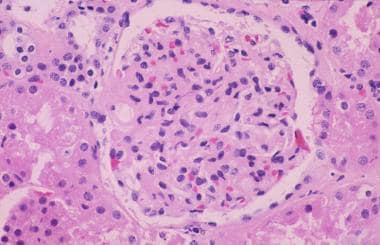 Light microscopy of a glomerulus from a patient with immunoglobulin A nephropathy showing increased mesangial matrix and cellularity.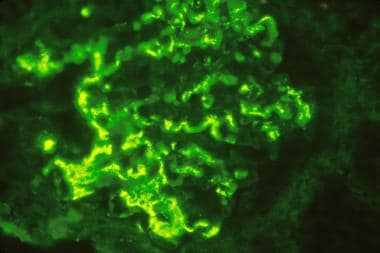 Immunofluorescence microscopy demonstrating large mesangial immunoglobulin A (IgA) deposits diagnostic of IgA nephropathy.
Although IgA nephropathy is a limited nonsystemic renal disease, many systemic illnesses are sporadically associated with mesangial IgA deposition. Henoch-Schönlein purpura (HSP), a systemic illness, has been closely linked to IgA nephropathy. Other systemic diseases in which mesangial deposits of IgA are regularly observed include systemic lupus erythematosus, hepatitis, dermatitis herpetiformis, and ankylosing spondylitis.
---
Did this answer your question?
Additional feedback? (Optional)
Thank you for your feedback!