Answer
A 24-hour urinalysis for urea, creatinine, and protein is extremely useful in quantifying protein losses and estimating the GFR. Typically, the urinalysis results from a patient with established diabetic nephropathy show proteinuria varying from 150 mg/dL to greater than 300 mg/dL, glucosuria, and occasional hyaline casts.
Microalbuminuria is defined as albumin excretion of more than 20 μg/min or an albumin-to-creatinine ratio (µg/g) of greater than 30. This phase indicastes incipient diabetic nephropathy and calls for aggressive management, at which stage the disease may be potentially reversible (ie, microalbuminuria can regress). (See the image below.)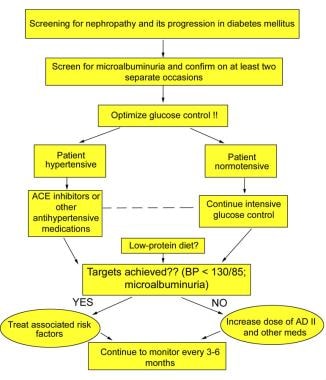 Screening for and prevention of the progression of microalbuminuria in diabetes mellitus. (ACE-I stands for angiotensin-converting enzyme inhibitor)
---
Did this answer your question?
Additional feedback? (Optional)
Thank you for your feedback!