Answer
Examination of the centrifuged sediment of urine is particularly helpful because it may reveal pigmented, muddy brown, granular casts, suggesting that established ATN is present (see the image below). However, remember that these casts may be absent in 20-30% of patients with ATN.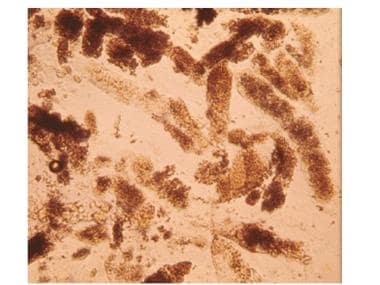 Acute tubular necrosis. Pigmented, muddy brown, granular casts are visible in the urine sediment of a patient with acute tubular necrosis (400x magnification).
In addition to the routine urinalysis, urine electrolytes may also help differentiate ATN from prerenal azotemia. The urinary sediment, electrolyte, and osmolality findings that can help to separate ATN from prerenal azotemia are listed in the following table.
Table. Laboratory Findings Used to Differentiate Prerenal Azotemia From ATN (Open Table in a new window)
Finding

Prerenal Azotemia

ATN and/or Intrinsic Renal Disease

Urine osmolarity

(mOsm/kg)

>500

< 350

Urine sodium

(mmol/d)

< 20

>40

Fractional excretion of sodium (FENa)

(%)

< 1

>2

Fractional excretion of urea

(%)

< 35

>50

Urine sediment

Bland and/or nonspecific

May show muddy brown granular casts
Fractional excretion of a substance is calculated by the formula (U/P)z/(U/P)Cr × 100, where z is the substance, U and P represent urine and plasma concentrations, and Cr stands for creatinine.
In patients with contrast-induced nephropathy (CIN), FENa tends to be less than 1%. This is an exception to the rule that FENa below 1% usually indicates prerenal failure.
Although rhabdomyolysis is a common cause of endogenous nephrotoxic ATN, FENa tends to be less than 1%, characteristically. This is another exception to the rule, along with CIN. An important finding on urinalysis is that of a positive dipstick test for blood, with typical absence of red blood cells (RBCs) on microscopy. Furthermore, hyperkalemia, hyperphosphatemia, and hyperuricemia are characteristic.
In some patients with drug-induced nephrotoxic ATN, crystals (eg, calcium oxalate crystals in cases of ethylene glycol toxicity) will be visible in a centrifuged urine sediment.
---
Did this answer your question?
Additional feedback? (Optional)
Thank you for your feedback!