Answer
The most important infection to exclude in the differential diagnoses of West Nile encephalitis (WNE) is herpes simplex virus type 1 (HSV-1) encephalitis, because it is the only viral encephalitis that can be treated pharmacologically, and early appropriate intervention will benefit the patient. HSV-1 encephalitis is suggested by temporal lobe abnormalities on electroencephalography (EEG) and later on CT scanning and MRI.
Early in the course of HSV-1 encephalitis, cerebrospinal fluid (CSF) may show a polymorphonuclear predominance but most frequently features a high red blood cell (RBC) count. CSF glucose levels may be increased in HSV-1 encephalitis. CSF studies in patients with WNE generally do not show this finding.
HSV-1 encephalitis is the most common cause of non–arthropod-borne (nonseasonal) encephalitis in the United States. HSV-1 infection usually manifests as encephalitis, uncommonly as meningoencephalitis, or rarely as aseptic meningitis. Differential diagnoses of meningoencephalitis, including the HSV-1 type, are listed in the chart below.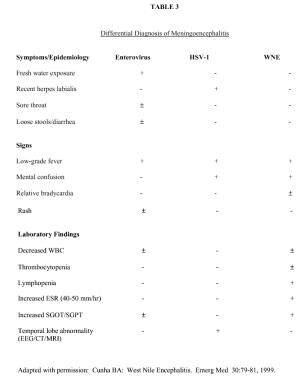 Differential diagnoses of meningoencephalitis.
---
Did this answer your question?
Additional feedback? (Optional)
Thank you for your feedback!