Answer
The WNV vector is the Culex mosquito, which typically feeds around dusk and dawn. Virus-laden saliva from the carrier mosquito infects the host. Dissemination occurs stepwise from replication in local subcutaneous tissues, and the virus spreads via lymphatics and blood vessels to solid organs and the CNS. [2]
WNV may spread to multiple host species, most commonly to horses, dogs, and other mammals. Horses can be severely affected, with a 30% mortality rate reported during a 2002 outbreak. [2] These animals, including humans, may be described as "dead end" hosts, as the levels of viremia do not facilitate high enough animal-to-mosquito transmission to perpetuate the replication cycle. [6]
More than 150 bird species have been reported as WNV-positive in CDC surveillance programs. [5] However, passerine birds (eg, species of jay, sparrow, crow, songbirds) have been shown the most competent in acting as disease reservoirs, demonstrating high levels of viremia for up to 1 week. [5] Bird-to-bird oral transmission has been demonstrated among birds kept in close contact, but bird-to-human transmission has not been reported. [4] However, standard precautions are still recommended when handling dead birds.
In addition to mosquito-borne transmission, the virus may be transmitted via solid organ transplant, trans-placental, and via blood transfusion. [19, 20, 21] Transfusion-related transmission was first described in 2002, and enhanced nucleic acid–based testing was instituted in 2003 and is now a part of routine screening to prevent transmission. [19] Laboratory-technician transmission has also been documented. [22]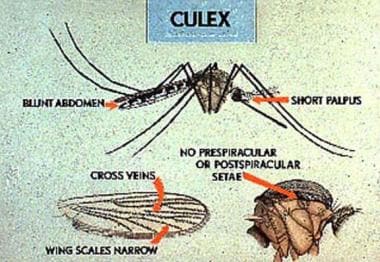 The Culex mosquito, common in the eastern United States, is the primary vector responsible for infecting humans with West Nile virus. Prevention of West Nile virus is primarily directed at reducing the mosquito population from May to October and by taking precautions to limit human exposure during these months of high mosquito activity. Image courtesy of the Centers for Disease Control and Prevention.
---
Did this answer your question?
Additional feedback? (Optional)
Thank you for your feedback!