Answer
West Nile virus (WNV) was first described in 1937 and is named for the West Nile district of Uganda, where it was discovered. [1] In the United States, the virus has been detected in all 50 states, Puerto Rico, and 9 Canadian provinces. [2, 3]
The disease is caused by the West Nile virus, a positive-strand RNA flavivirus. [4] It is transmitted via the bite from the Culex mosquito and is known to infect humans, birds, horses, and other mammals. Birds act as a primary reservoir and means of viral replication, with high levels of viremia observed in infected crows, sparrows, blue jays, and other passerine birds. [5] WNV infection manifests as two clinical syndromes: West Nile fever (WN fever) and West Nile encephalitis (WNE).
WNE can be defined as disease that causes encephalitis, meningitis, or acute flaccid paralysis. [6] When the virus infects these structures of the central nervous system, it may be described as neuroinvasive disease.
West Nile fever can be defined as WNV disease that causes fever and nonspecific symptoms (eg, headache, muscle aches, rash, neck stiffness, vomiting) without any evidence of brain/meningeal involvement. [6] West Nile fever is generally less severe than WNE and produces symptoms in only about 25% of cases. [7] WNE, however, is generally a much more severe form of WNV infection, especially in elderly individuals, and carries a mortality rate of approximately 8%. [8]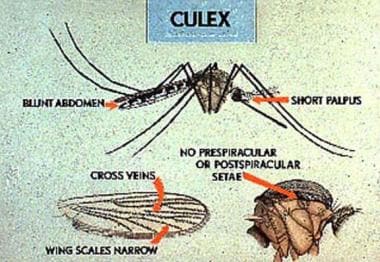 The Culex mosquito, common in the eastern United States, is the primary vector responsible for infecting humans with West Nile virus. Prevention of West Nile virus is primarily directed at reducing the mosquito population from May to October and by taking precautions to limit human exposure during these months of high mosquito activity. Image courtesy of the Centers for Disease Control and Prevention.
See 7 Bug Bites You Need to Know This Summer, a Critical Images slideshow, for helpful images and information on various bug bites.
For more information, see the Centers for Disease Control and Prevention (CDC) fact sheet on West Nile virus, links to state and local government web sites on West Nile virus, and the Environmental Protection Agency (EPA) article on mosquito control.
---
Did this answer your question?
Additional feedback? (Optional)
Thank you for your feedback!