Answer
During the third week of embryonic development, proliferation and medial migration of ectodermal cells form the notochord. After the heart tube and pericardium have rotated from the cranial position to lie anteriorly, the notochord, which is initially in the caudal region of the embryonic disc, rotates to lie posterior to the primitive foregut. The paraxial layer of mesenchyme, which lies adjacent to the notochord, differentiates into the somite ridges, intermediate cell mass, and lateral plate mesoderm. From these mesodermal structures, the branchial arches develop, the first of which gives rise to internal nasal structures.
The paranasal sinuses develop in conjunction with the palate from changes in the lateral wall of the nasal cavity. At 40 weeks' gestation, 2 horizontal grooves develop in the mesenchyme of the lateral wall of the nasal cavity. Proliferation of maxilloturbinate mesenchyme between these grooves results in an outpouching of tissue medially into the nasal lumen. This outpouching is the precursor of the middle and inferior meatus as well as the inferior turbinate. Ethmoidoturbinate folds develop superiorly to give rise to the middle and superior turbinates. Once the turbinate structures are established, sinus development begins and continues until early adult life.
The sinuses open into the nose via small openings called ostia. [5] The maxillary and ethmoid sinuses form at 3-4 months' gestation. Thus, an infant is born with 3-4 ethmoid cells and tiny teardrop-shaped maxillary sinuses. By the teenage years, each maxillary sinus progressively enlarges to an adult capacity of 15 mL. In healthy individuals, the ethmoid sinuses increase in number to 18-20, and each drains by an individual ostium that is 1-2 mm in diameter.
The frontal sinus develops from an anterior ethmoid cell and moves to its supraorbital position when the individual is aged 6-7 years. Frontal sinuses may begin to develop at this age but usually do not appear radiologically until the individual is aged approximately 12 years. The maxillary, anterior ethmoid, and frontal sinuses drain into the middle meatus; the posterior ethmoid and sphenoid sinuses drain into the superior meatus (see the image below).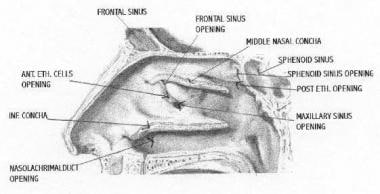 Sagittal section of the lateral nasal wall demonstrating openings of paranasal sinuses. Conchae have been cut to depict details of meatal structures.
---
Did this answer your question?
Additional feedback? (Optional)
Thank you for your feedback!