Answer
The most common presentation is the shingles vesicular rash, which most commonly affects a thoracic dermatome.
After a prodromal illness of pain and paresthesias, erythematous macules and papules develop and progress to vesicles within 24 hours. The vesicles eventually crust and resolve.
Pain and sensory loss are the usual symptoms, but motor weakness also occurs and is frequently missed on examination. Motor weakness results when the viral activity extends beyond the sensory root to involve the motor root. Cases of actual monoplegia due to varicella-zoster virus (VZV) brachial plexus neuritis have been reported.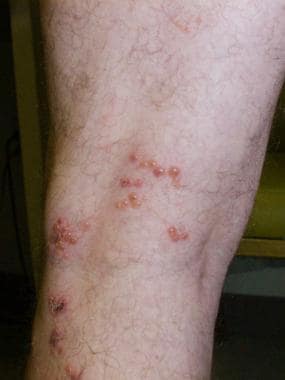 Typical zoster in the vicinity of right popliteal fossa in a vertebral nerve L4 distribution.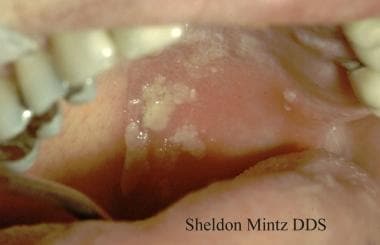 Human herpesvirus (HHV) type 3. Intraoral herpes zoster closely resembles recurrent HHV-1 infection, but the lesions generally follow a dermatome and stop sharply at the midline, as shown here. However, the rules for common sites of occurrence of HHV-1 and HHV-3 often do not apply to patients who are immunocompromised. Courtesy of Sheldon Mintz, DDS.
---
Did this answer your question?
Additional feedback? (Optional)
Thank you for your feedback!