Answer
Varicella-zoster virus (VZV) causes chickenpox and herpes zoster (shingles). Chickenpox follows initial exposure to the virus and is typically a relatively mild, self-limited childhood illness with a characteristic exanthem, but can become disseminated in immunocompromised children. Reactivation of the dormant virus results in the characteristic painful dermatomal rash of herpes zoster, which is often followed by pain in the distribution of the rash (postherpetic neuralgia). See the image below.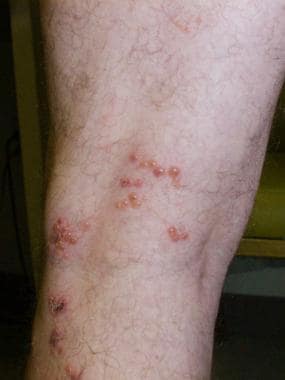 Typical zoster in the vicinity of right popliteal fossa in a vertebral nerve L4 distribution.
---
Did this answer your question?
Additional feedback? (Optional)
Thank you for your feedback!