Answer
Surgery is indicated only for a few specific conditions, including bladder neck obstruction, prostatic calculi (seen in the image below), and recurrent infection with the same bacteria. [3]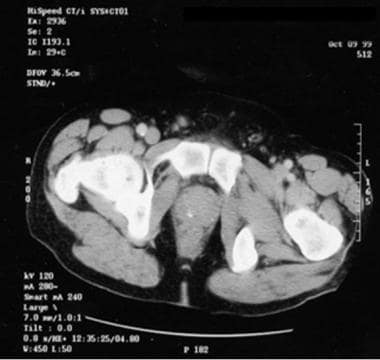 Prostatic calcifications in a male with a urinary tract infection.
Transurethral incision of the bladder neck benefits some patients with bladder neck obstruction; however, transurethral balloon dilatation of the prostate is not helpful. A partial transurethral prostatectomy (TURP) removes only part of the infected gland and, therefore, benefits only one third of patients.
Radical or total prostatectomy is usually not required or beneficial; complications include incontinence and impotence. Patients for whom a radical TURP or total prostatectomy should be considered are those with either prostatic calculi or those in whom the same bacteria have been consistently isolated from prostatic specimens. A prostate biopsy may confirm that the bacteria are actually originating from the prostate. These are rarely cured by antimicrobials alone; drainage is best achieved by an ultrasonographically guided needle.
Other surgical interventions may be needed to remove or address other complications, such as bladder calculi (seen in the image below).
---
Did this answer your question?
Additional feedback? (Optional)
Thank you for your feedback!