Answer
Measurement of the postvoid residual by bladder scan or ultrasonography should be performed on every patient admitted to the hospital for UTI. Its use may minimize the need for Foley catheter insertion.
Renal ultrasonography is a noninvasive study that requires no contrast and provides useful information about the renal parenchyma. This imaging modality can be performed at the bedside in a hemodynamically unstable patient, and it can help to detect hydronephrosis, pyonephrosis, and perirenal abscess. However, the quality of the study depends on the skill of the examiner; the study may be of little benefit in patients who are obese. Ureteral dilatation secondary to UTIs may mimic obstruction.
Transrectal ultrasonography is the study of choice to demonstrate a prostate abscess; [9] a CT or magnetic resonance imaging (MRI) scan may also be useful. Virtually all men older than 60 years have some prostatic calculi (see the CT scan below); however, no correlation exists between chronic prostatitis and the presence or absence of prostatic calculi.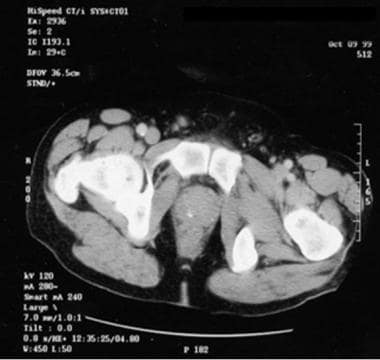 Prostatic calcifications in a male with a urinary tract infection.
Scrotal ultrasonography with Doppler interrogation and radionuclide scans can be helpful in equivocal cases to differentiate the causes of acute scrotum, including epididymitis, torsion of the spermatic chord, and torsion of a testicular appendage. Torsion of the spermatic cord must be assumed until proven otherwise, because necrosis can develop in less than 3 hours. Consultation with a urologist is mandatory in all but the most clear-cut cases of torsion, because the standard is to try to intervene in less than 3 hours.
---
Did this answer your question?
Additional feedback? (Optional)
Thank you for your feedback!