Answer
The mere presence of a focus of retinitis is not always an indication for treatment. Small, peripheral lesions generally heal spontaneously and may be followed conservatively. On the other hand, lesions in the vascular arcade, lesions near the optic disc (Jensen papillitis), lesions in the papillomacular bundle, or large lesions (irrespective of location) are treated. Patients with severe, debilitating vitreitis are also treated aggressively. (See the image below.)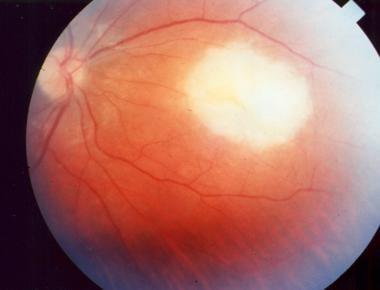 Acute macular retinitis associated with primary acquired toxoplasmosis, requiring immediate systemic therapy.
In a prospective trial, treatment with several regimens failed to shorten the duration of inflammatory activity or to prevent recurrences. However, treatment did reduce the size of the ultimate retinochoroidal scar.
In addition, experts differ on their preferred initial treatment. In a report, one third of respondents preferred triple therapy (ie, pyrimethamine, sulfadiazine, prednisone), and a little more than one quarter of respondents preferred quadruple therapy (ie, pyrimethamine, sulfadiazine, clindamycin, prednisone).
---
Did this answer your question?
Additional feedback? (Optional)
Thank you for your feedback!