Answer
As previously stated, T gondii oocysts are ingested in material contaminated by feces from infected cats. Oocysts may also be transported to food by flies and cockroaches. When T gondii is ingested, bradyzoites are released from cysts or sporozoites are released from oocysts, and the organisms enter gastrointestinal cells. Host cell receptors consisting of laminin, lectin, and SAG1 are involved in T gondii tachyzoite attachment and penetration. Tachyzoites multiply, rupture cells, and infect contiguous cells. They are transported via the lymphatics and are disseminated hematogenously throughout the tissues.
The ability of T gondii to actively penetrate host cells results in formation of a parasitophorous vacuole that is derived from the plasma membrane, which is entirely distinct from a normal phagocytic or endocytic compartment. [6] Following apical attachment, the parasite rapidly enters the host cell in a process that is significantly faster than phagocytosis. The vacuole is formed primarily by invagination of the host cell plasma membrane, which is pulled over the parasite through the concerted action of the actin-myosin cytoskeleton of the parasite. During invasion, the host cell is essentially passive and no change is detected in membrane ruffling, the actin cytoskeleton, or phosphorylation of host cell proteins. (See the images below.)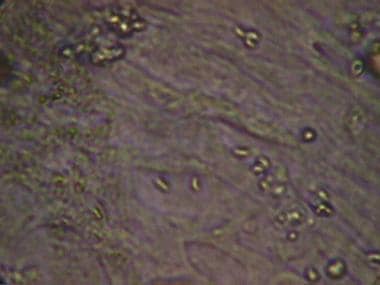 Toxoplasma gondii tachyzoites in cell line.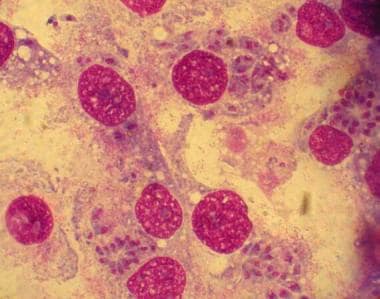 Toxoplasma gondii in infected monolayers of HeLa cells (Giemsa stain).
---
Did this answer your question?
Additional feedback? (Optional)
Thank you for your feedback!