Answer
Streptococcal cellulitis is an acute, rapidly spreading infection of the skin and subcutaneous tissue that can follow the occurrence of burns, wounds, surgical incisions, varicella infection, or mild trauma. Pain, tenderness, swelling and erythema, and systemic toxicity are common, and patients may have associated bacteremia. Careful serial examination is crucial because cellulitis may progress to necrotizing fasciitis. (See the image below).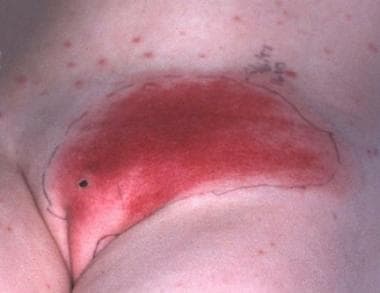 Invasive soft tissue infection due to Streptococcus pyogenes. This child developed fever and soft-tissue swelling on the fifth day of a varicella-zoster infection. Leading edge aspirate of cellulitis grew S pyogenes. Although the patient responded to intravenous penicillin and clindamycin, operative débridement was necessary because of clinical suspicion of early necrotizing fasciitis.
---
Did this answer your question?
Additional feedback? (Optional)
Thank you for your feedback!