Answer
Presumptive identification of a strain as a group A streptococcus can also be made on the basis of production of the enzyme L-pyrrolidonyl-beta-naphthylamide (PYRase). Among the beta-hemolytic streptococci isolated from throat culture, only group A isolates produce PYRase, which can be identified on the basis of the characteristic color change (red) after inoculation of a disk on an agar plate followed by overnight incubation.
When cultured on blood agar plates, the production of a characteristic zone of complete hemolysis (beta hemolysis) is another important clue to the classification of S pyogenes (see the image below). (For example, Streptococcus pneumoniae generates a zone of only partial hemolysis [alpha hemolysis].)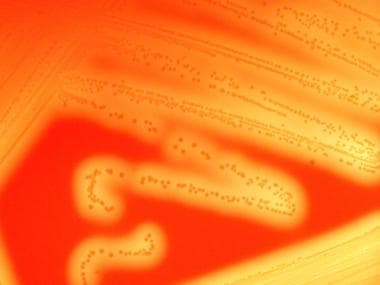 Streptococcus group A infections. Beta hemolysis is demonstrated on blood agar media.
---
Did this answer your question?
Additional feedback? (Optional)
Thank you for your feedback!