Answer
An understanding of the diverse nature of infectious disease complications attributable to this organism is an important cornerstone of pediatric medicine. In addition to infections of the upper respiratory tract and the skin, S pyogenes can cause a wide variety of invasive systemic infections. Along with Staphylococcus aureus, group A streptococcus is one of the most common pathogens responsible for cellulitis. Infection with this pathogen is also causally linked to 2 potentially serious nonsuppurative complications: acute rheumatic fever (ARF) and acute glomerulonephritis. In addition, infection with S pyogenes has reemerged as an important cause of toxic shock syndrome (TSS) and of life-threatening skin and soft-tissue infections, especially necrotizing fasciitis (see the image below). (See Pathophysiology, Etiology, Presentation, Workup, Treatment, and Medication.)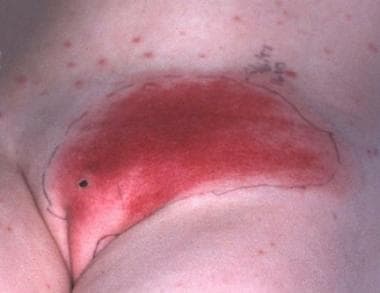 Invasive soft tissue infection due to Streptococcus pyogenes. This child developed fever and soft-tissue swelling on the fifth day of a varicella-zoster infection. Leading edge aspirate of cellulitis grew S pyogenes. Although the patient responded to intravenous penicillin and clindamycin, operative débridement was necessary because of clinical suspicion of early necrotizing fasciitis.
---
Did this answer your question?
Additional feedback? (Optional)
Thank you for your feedback!