Answer
Within the portal vasculature, male and female adults pair off, with the thin female entering and remaining in the gynecophoric canal of the stockier 8mm male worm. Together they migrate along the endothelium, against portal blood flow, to the mesenteric (S mansoni, S japonicum) or vesicular (S haematobium) veins, where they begin to produce eggs.
The microscopic appearance of the egg allows diagnostic differentiation of the 5 species. An adult S haematobium produces 20-200 round, terminally spined eggs per day (see the image below); S mansoni produces 100-300 ovoid, laterally spined eggs per day; and S japonicum produces 500-3500 small, round, laterally spined eggs per day. The eggs of S intercalatum have prominent, terminal spines, and those of S mekongi have small, lateral spines.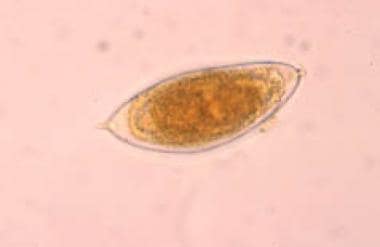 Egg of Schistosoma hematobium, with its typical terminal spine.
The eggs, which are highly antigenic and can induce an intense granulomatous response, migrate through the bowel or bladder wall to be shed via feces or urine. During this time (approximately 10d), the organisms begin to mature into miracidia.
Eggs that are not shed successfully may remain in the tissues or be swept back to the portal circulation (from the mesenteric vessels) or to the pulmonary circulation (from the vesicular vessels via the inferior vena cava). Eggs can end up in the skin, brain, muscle, adrenal glands, and eyes. As the eggs penetrate the urinary system, they can find their way to the female genital region and form granulomas in the uterus, fallopian tube, and ovaries. CNS involvement occurs because of embolization of eggs from the portal mesenteric system to the brain and spinal cord via the paravertebral venous plexus. [7, 8]
---
Did this answer your question?
Additional feedback? (Optional)
Thank you for your feedback!