Answer
Schistosomiasis is due to immunologic reactions to Schistosoma eggs trapped in tissues. Antigens released from the egg stimulate a granulomatous reaction involving T cells, macrophages, and eosinophils that results in clinical disease (see the image below). Symptoms and signs depend on the number and location of eggs trapped in the tissues. Initially, the inflammatory reaction is readily reversible. In the latter stages of the disease, the pathology is associated with collagen deposition and fibrosis, resulting in organ damage that may be only partially reversible. (See Pathophysiology, Etiology, and Presentation.)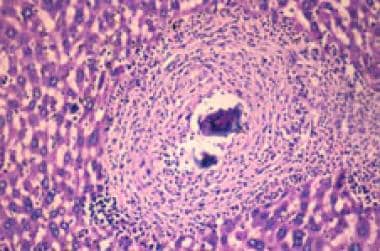 Granuloma in the liver due to Schistosoma mansoni. The S mansoni egg is at the center of the granuloma.
Eggs can end up in the skin, brain, muscle, adrenal glands, and eyes. As the eggs penetrate the urinary system, they can find their way to the female genital region and form granulomas in the uterus, fallopian tube, and ovaries. Central nervous system (CNS) involvement occurs because of embolization of eggs from the portal mesenteric system to the brain and spinal cord via the paravertebral venous plexus. [5, 6, 7]
---
Did this answer your question?
Additional feedback? (Optional)
Thank you for your feedback!