Answer
Pott disease, also known as tuberculous spondylitis, is a classic presentation of extrapulmonary tuberculosis (TB). It is associated with significant morbidity and can lead to severe functional impairment.
The diagnosis tends to be delayed because of a nonspecific initial early manifestations and/or low degree of suspicion. The diagnostic approach needs to be based on chronic pain or deformity, epidemiological considerations, imaging, and adequate procedures to obtain samples for bacteriological, pathological, or molecular confirmation.
Treatment requires several months of medical therapy according to current recommendations and consideration for surgical procedures, when indicated.
Pott disease is one of the oldest demonstrated diseases of humankind, having been documented in spinal remains from the Iron Age in Europe and in ancient mummies from Egypt and the Pacific coast of South America. [1, 2] In 1779, Percivall Pott, for whom the disease is named, presented the classic description of spinal tuberculosis. (See the image below.) [3]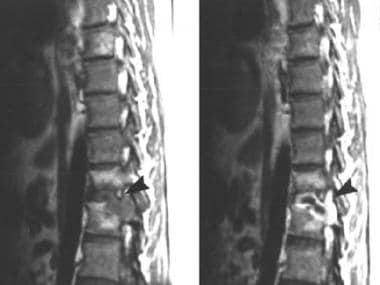 MRI of a 31-year-old man with tuberculosis of the spine. Images show the thoracic spine before and after an infusion of intravenous gadolinium contrast. The abscess and subsequent destruction of the T11-T12 disc interspace is marked with arrowheads. Vertebral body alignment is normal. Courtesy of Mark C. Diamond, MD, and J. Antonio Bouffard, MD, Detroit, Mich.
Since the advent of antituberculous drugs and improved public health measures, spinal tuberculosis has become rare in industrialized countries, although it is still a significant cause of disease in developing nations. Tuberculous involvement of the spine has the potential to cause serious morbidity, including permanent neurologic deficits and severe deformities. Medical treatment or combined medical and surgical strategies can control the disease in most patients. [4, 5]
---
Did this answer your question?
Additional feedback? (Optional)
Thank you for your feedback!