Answer
A perianal cellophane swab or cellophane-tape examination should be used to detect Enterobius vermicularis eggs (see the image below). Egg detection is associated with false-positive rate of 5-11% and a false-negative rate of 70-95%. [9] One report found that a single cellophane-tape examination yielded a sensitivity of 50%, 3 examinations yielded a sensitivity of 90%, and 5 examinations yielded a sensitivity of 99%.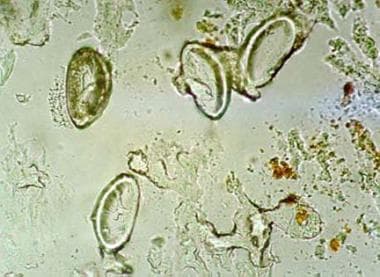 Microscopic view of Enterobius vermiculariseggs attached to cellophane tape after a perianal swab from a child in kindergarten in Seoul, Korea. Egg size was 50-60 μm X 20-30 μm. The eggs are elongated and ovoid, distinctly compressed laterally, and flattened on one side.
---
Did this answer your question?
Additional feedback? (Optional)
Thank you for your feedback!